4D People are volumetrically scanned humans for visualization, VFX, games, VR, AR and everything else. Each model contains a high-res mesh and texture sequence which have been captured in our world leading volumetric studios Volucap Max. Our 4D People models can be used in all common 3D applications, no plug-ins required.
Work with the tools you love
Our 4D People can be used wherever you need them and can be easily integrated into your existing workflow. The 4D People are compatible with all common 3D software and do not require any new plugins.
As every nuace in the face is being scanned, the facial expressions of the 4D People are more realistic than any performance capture technique based on facial rigging.
Both, the human motion and the physical behavior of the clothing correspond to the real world and are therefore also perceived as authentic and lifelike.
Accurate visual appearance
Volumetric capture technology accurately transfers reality into 3D worlds. No conventional rig-based 3D models from games or movies are as close to reality as the 4D People.
4D People come with a 4096×4096 pixel texture sequence. This gives them more details and sharper contrasts compared to other volumetric captured models.
4D People come with an optimized 30k polygon geometry sequence. This resolution keeps the shape and silhouette of the models in motion without causing artifacts.
4D People are easy and ready to use, no plug-in is required. They are available for 3ds Max, Maya, Cinema 4D and Blender. Moreover, the open and widely used Alembic standard allows 4D People to be used in a variety of further 3D programs.
Groundbreaking Quality
Volucap technology revolutionizes all standards in product development quality and product introduction. Applicable in communication-based and content-enabling processes, Volucap opens up new possibilities due to its groundbreaking quality and the continuous development of its system.
Thanks to our 32 camera system producing 650 megapixel images for each frame, our 4D People are reaching a new level of quality and photo realism.
30 fps animated geometry sequence
Renderpeople
The 4D People can be easily bought via Renderpeople and integrated into existing projects. The high quality standards of Renderpeople ensure a homogeneous presentation of several products and render engines as well as excellent support for queries.
Individual Models
For individual inquiries and recordings of new people, please feel free to contact us while the purchase of existing assets is done directly via Renderpeople.
4D People are captured in the Volucap Max Studio
Volucap's Studio is located on 1830 square feet (170 sq meters) in the FX Center within Studio Babelsberg. The almost 13 feet (4 meter) high light rotunda is equipped with a minimum of 32 cameras that capture every movement and facial expression from a 360° perspective. Inside the room, people and objects can be scanned three-dimensionally and lifelike. Recordings are later transformed into structured and animated 3D surfaces by intelligent software algorithms. Eventually, filmed subjects can be placed into any AR, MR, VR, 360, or 2D video/web application on a variety of devices— such as phones, holographic headsets, and Windows Mixed Reality Immersive Headsets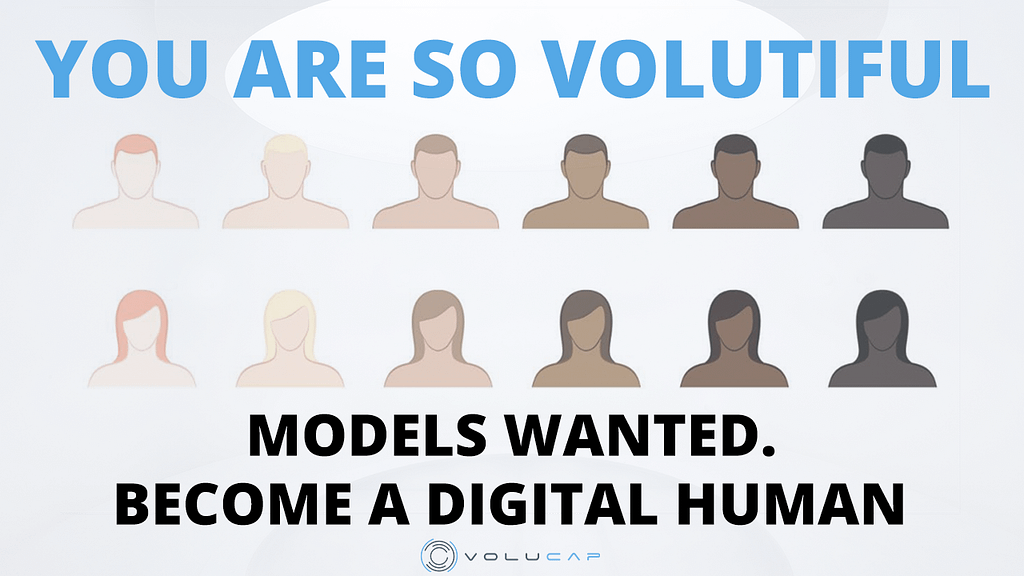 Become a 4D People
Become a Volucap and be part of the 4D People Gallery.
A unique chance to appear as an extra in the next Netflix series or to make virtual worlds more alive.
Acting as a digital human doesn't mean standing still and looking good, but moving naturally while being captured by over 40 cameras.
You could be the businesswoman, or a colleague chatting with another, the proud grandfather holding a balloon for his grandchild, the soccer player juggling a ball, the violinist playing her instrument. With volumetric recording, we are able to capture the emotions and movements in full authenticity.
Take a look at our projects to see some real use cases for 4D People
FX.Center – Studio Babelsberg
Phone: +49 331 88547580
Email: mail@volucap.de
Web: volucap.de
FX.Center – Studio Babelsberg
Phone: +49 331 8854758
Email: mail@volucap.de
Web: volucap.de