AUGMENTED REALITY
XR PRODUCTIONS



INTRO
Augmented Reality (AR) offers completely new perspectives in the development and use of mobile content and applications: Innovative navigation features make everyday life easier, mobile shopping becomes more interactive and AR games are simply fun.
Thanks to "Pokémon Go", an audience of millions has already gained their first experience with AR in the summer of 2016. Now, with volucaps it is possible to represent people authentically in augmented reality.
Only those who have experienced how virtual and augmented reality works in practice can be convinced of the strengths of this innovative technology. That is why we recommend starting with a pilot project as soon as possible and then exploring the potential step by step.

TIME SAVING
Time savings of 20 to 30 percent
An AR instruction reduces the risk of errors
If the technician knows exactly what he has to do where and what he has to do with the AR instructions and does not have to read up on this in manuals, he will be able to complete his job faster. Initial pilot projects report time savings of 20 to 30 percent through the use of augmented reality in the area of service and maintenance.

COST REDUCTION
Save time and money
Cost reduction through increased productivity
If the technician can complete his jobs faster and better with AR support, this also means an increase in productivity. There are also fewer second starts, which improves the first-time fix rate. Costs can be cut by up to 30 percent.

HIGHER PROCESS RELIABILITY
Augmented Reality increases process reliability in service
Higher process reliability
An augmented reality instruction specifies exactly in which order he has to carry out the individual work steps and also gives him feedback on whether he is performing them correctly. Augmented Reality thus contributes to process reliability in service and maintenance, reduces the risk of errors and extends the service life of systems and machines.

REMOTE EXPERT
Experience your remote expert live on site
Remote Expert
Experience your remote expert live on site. With the help of a 3D instruction, which is projected into the technician's field of vision, the expert can explain and show the technician which steps he has to take to solve the problem. In this way, problems can be solved much faster and with a lower error potential.
This application is currently already in use at our customer Kasto. The sawing and storage technology specialist offers its customers the possibility to connect to the service staff and solve problems via an interactive app with video and audio stream.

VIRTUAL LERANING SIMULATIONS
This not only saves time and money for trainers, but also enables interactive training independent of time and space, as well as an individual learning pace and any number of repetitions.
Virtual learning simulations
Virtual learning simulations can train new colleagues or subcontractors on existing systems or equipment or even on completely new machines. This not only saves time and costs for trainers, but also enables interactive training independent of time and space, as well as an individual learning pace and any repetitions. The new technology can also be an additional motivation for the learners. All these factors contribute to an optimized learning experience that results in a better learning outcome: The new colleagues learn faster, retain what they have learned better and make fewer mistakes when using it.

AR INSTRUCTIONS FOR CUSTOMERS
Augmented Reality can also be used on the customer side
Augmented Reality instructions for customers
Augmented Reality can also be used on the customer side. Instead of calling a technician, a customer who has a certain level of expertise can carry out repairs or maintenance with instructions, for example using his smartphone. This saves time and money and motivates the company's own employees.
If maintenance or repair by a certified technician is mandatory, for example, for safety reasons, the machine operator or customer can show the problem to the service technician or maintenance engineer in advance via AR so that the latter can bring the right spare part with him on his first trip.
GAMES
New games promise innovative game ideas and improved display quality
NAVIGATION & TRAVEL GUIDES

AR becomes the essential feature of mobile navigation services
5G NETWORKS

New networks provide faster access and volumetric live streaming
LEARNING CONTENTS

AR illustrates complex relationships and creates additional motivation to learn through playful elements
SHOPPING
AR individualizes mobile shopping with features like the digital changing room
SOCIAL NETWORK

AR features make social networking platforms more fun to use
ADVERTISING

AR offers new forms of visualization and contextual advertising
E-LEARNING
As a first mover in virtual reality, we see ourselves as one of the leading providers with the complete full service: consulting, strategy, 360° production, 3D animation, programming and staging. Our experience comes from over 400 workshops and in the implementation of many lighthouse projects.
EMOTIONAL CONTENT
Emotions drive our learning. In order to impart a motivational message, good trainers as people are an important tool. Volumetric recordings enable training to be performed anywhere and anytime by the best professional experts available.
RUNNING ON ALL MAYOR DEVICES
Our integrations for common real-time and 3D tools enable smooth operation on all end devices
PHOTOREALISTIC CHARACTERS
With world-leading RGB resolution of 650 megapixels per image, all details are captured as crisply as possible.
AR SPORTS

The volumetric capture of professional basketball player Josh Mayo not only allows new perspectives on the sport, but also new creative possibilities. As the world's first 6DoF experience for mobile VR systems, "Meeting Josh Mayo" offers the possibility to learn cool dribbles and precise throws from the former basketball star of Telekom Baskets Bonn.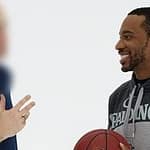 MARKETS ARE GROWING
Augmented reality is developing from a niche to one of the most influential technologies of the future: products and services based on virtual and augmented reality could contribute up to 1.5 trillion US dollars to the global economy in 2030. In Germany alone, the sum total is 104 billion US dollars.Worldwide, this represents a turnover of 1.5 trillion US dollars in the field of Augmented Reality. This would increase the GDP by 2.5 percent. After all, around 400,000 people in Germany and 23 million worldwide will work with AR/VR solutions. A new PwC analysis, which examines possible effects of VR/AR on the economy and employment, comes to these results.
AR EXPECTATION
Prefer to shop from stores offering AR
61%
Who benefit from more Info
65%
Consumers expect AR by retailers
75%
FX.Center – Studio Babelsberg
Phone: +49 331 88547580
Email: mail@volucap.de
Web: volucap.de
FX.Center – Studio Babelsberg
Phone: +49 331 8854758
Email: mail@volucap.de
Web: volucap.de