THE BOSSHOSS
AUGMENTED REALITY

Your favorite band in your living room
The band that virtually performed their hit "Dos Bros" during the conference impressively demonstrates how 5G brings reality and the virtual world even closer together.
The potential of 5G was clearly demonstrated by the performance of The BossHoss during the press conference at IFA 2019. 5G technology allows digital avatars in the form of Volucaps to connect and interact with the real world.
This way, every visitor could take individual videos with volucaps of the band, which they could then share with friends or on social media.
CONTENT
Musikwirtschaft GmbH
Phone recording @ IFA 2019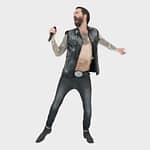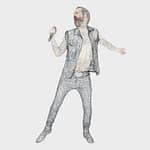 VOLUMETRIC ROCKSTARS
The band members of Boss Hoss were recorded individually in Volucap Studio and later merged into an AR app. With our dynamic realtime lighting, the Rockstars could be integrated to match the ambient lighting.
A UNIQUE MOMENT
The 5G technology enables trade fair visitors to interact with their idols and thus connect the virtual with the real world. Every visitor could thus experience a unique moment with the band and share it with his friends as a video via social media.
Learn more about the possibilities with Augmented reality